MCA Day 2013 was awesome.  MCA Day 2014 was even better.
This year's MCA Day began on Friday with a really cool promotion in Union Square.  It featured breakdancing monks.  It was a lot of fun and I was able to zip down there during lunch to see it.  After Union Square, they headed to Washington Square Park (I couldn't attend).
MCA Day was Saturday at Littlefield, Brooklyn, New York (same venue as last year).  It's the perfect venue for this type of event. It's only a 5 minute walk from the R train.  There are two exhibition areas, one in the front next to a bar (good beer and liquor) and one in the rear of the venue, along with the stage.
You know you're in the right area because Dave Sussman's car is parked right out front.  This same car was used to pick up Danny Boy of House of Pain from the airport.  As you approach the front door, the first thing you see if Danny Boy sitting with some folk at a table (how cool is that ?!?!).
When you walk through the front door, the bar is on the right.  To your left is a table with a guest book and lots of free schwag (stickers, buttons, flyers). The room is full of amazing art, including a piece that Cey Adams had been working on for seven days straight trying to get it done in time…and had just finished the night before.  Cey had told Mike Kearny (the founder of MCA Day) to leave space on the wall for his piece.
I saw Cey walking around talking to and taking pictures with fans.  Cey is a super-friendly nice guy.
By noon, the place was packed. Twice as many people as last year. They ran out of beer and had to order more. Long bathroom line. After last year's MCA Day, word must have gotten around that Beastie fans can't miss this event. People flew in from around the world. MCA Day founder, Mike Kearny, took to the stage to say how appreciative he was.
DJ Hurricane was in attendance last year, but I wasn't sure if he'd be here this year. Then, I found out that he had just RSVP'd the day before. He didn't want to miss it. He talked to and took photos with fans, interviewed by reporters.
There were a few breakdancing groups in attendance, including the most adorable couple of kids. I couldn't believe how good they were.
People were standing in the back room watching a compilation of Beastie Boy vids, listening to jams being mixed by a number of DJs, including Dante, who generously donated their time.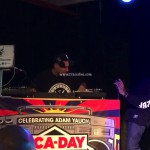 Cey Adams took the stage briefly to talk about Adam Yauch, as well as the art piece he had been rushing to get finished for MCA Day.
Then, Bill McMullen 'Billions McMillions' took the stage. He spent a good 15 minutes talking about working with Adam Yauch and how brilliant he was. Adam would call him in the middle of the night with different ideas he had running through his head. Yauch was a big fan of Peter Sellers. He called Bill one night doing one of Sellers' characters, calling Bill 'Billions McMillions.' This is how the name was coined.
Mike Kearny stalked Darryl McDaniels aka DMC of RUN DMC at a charity event at Lucky Strike bowling in Boston.  He was able to push his way past reporters and get some great MCA stories.  This video also includes tributes from Rakim from Eric B and Rakim, Monie Love, Chuck D and Doug E. Fresh.
NYC Fresh Crew.
Shortly after I left, Mixmaster Mike, came and spoke.  Kicking myself for missing him.
Rest in peace, Adam Yauch.